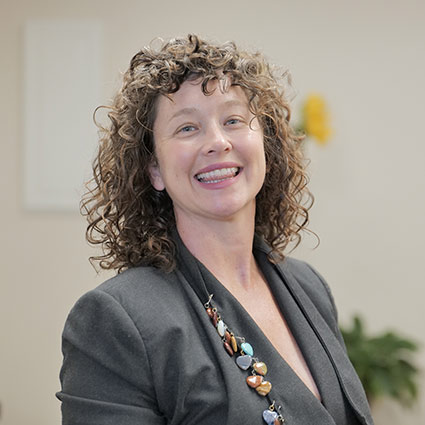 Carrie – Office Manager
Carrie has been a part of the Intrinsic Care Chiropractic team for years, and we couldn't ask for a better fit for our practice.
Carrie found Network chiropractic years ago when a friend was visiting a chiropractor for sessions. That friend recommended Carrie give it a try, and she was truly astonished by the results she felt both physically and mentally. Finally, she felt like she found something that truly healed her from the inside out, and she felt immensely better.
A Love for Helping Patients
In the practice, Carrie loves helping patients feel better-in fact, that's her favorite part about working at Intrinsic Care Chiropractic. Here, she hopes to help patients feel held in this space, and wants you to know that when you're here for a visit, you are listened to and cared for by everyone. Carrie wants the best for you, and will do everything she can to make sure you get it.
Outside of the Practice
When she isn't working, Carrie has a number of hobbies she likes to participate in, including cooking and gardening-in fact, she even went to Culinary School and traveled around India to learn about different food sources. In her garden, she grows tomatoes, green beans, blackberries and more, and loves to make jams and teas from her harvest every year.
She can't wait to welcome you into the practice. Get to know more about her when you book a visit with our team today.
Book an Appointment
Experience the incredible benefits of chiropractic care. Contact us today to schedule an appointment!
CONTACT US »


Carrie, Office Manager | (614) 396-6945