Meet Dr. Lauren DiGiovanni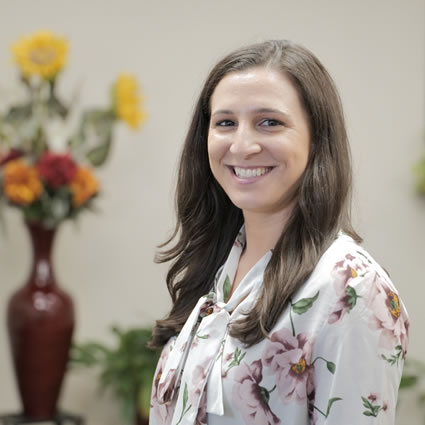 "Working with the nervous system is working with the entire body. When your nervous system starts getting healthier, everything else follows."
As the associate chiropractor at Intrinsic Care Chiropractic, Dr. Lauren loves connecting with people and getting an understanding of what brings that spark to their unique life. She loves seeing the authentic version of a person be brought out as they progress through care in the office.
"Physical, mental, and emotional stress does not need to dictate a person's life. Chiropractic helps the nervous system use that stress for fuel. Witnessing how people change their lives once they have a coherent nervous system that is now energizing their world is why I decided to become a chiropractor."
Education & Experience
Dr. Lauren earned her Doctor of Chiropractic from Life University in Marietta, Georgia. While there, she was the vice president of the Network Spinal Club and vice president of the Sacro Occipital Technique Club.
Her aha moment during chiropractic college was when she found the Network Spinal Technique, which is the method used at the office. "This technique goes beyond relieving someone from pain, once the nervous system is coherent people can become the best version of themselves and that to me is truly gratifying."
In addition to her doctorate, Dr. Lauren has served as a massage therapist at chiropractor's offices in New York. Witnessing the amazing results that the patients were getting from chiropractic care she knew she could help more people as a chiropractor.
Joining Our Team
Why Intrinsic Care Chiropractic? "I wanted to be part of an elite team! We offer the highest standard of care, achieve extraordinary results, and we have amazing practice members that allow me to be part of their healing journey."
Dr. Lauren's vision and mission are also aligned with those of Intrinsic Care Chiropractic.
I want people receiving care to live their greatest purpose in life. My purpose for them is to feel wholeness within themselves and their world."
Outside the Practice
In her spare time, Dr. Lauren loves to be active in the gym, explore nature, and longboard the Olentangy trail. She also loves the Star Wars Universe, and welcomes any fun Star Wars facts to be shared. Dr. Lauren also enjoys the theater and going to art exhibits, a favorite spot in Columbus that she loves getting lost in is the Book Loft in German Village.

Dr. Lauren DiGiovanni | (614) 396-6945