Meet William Lawson, Office Coordinator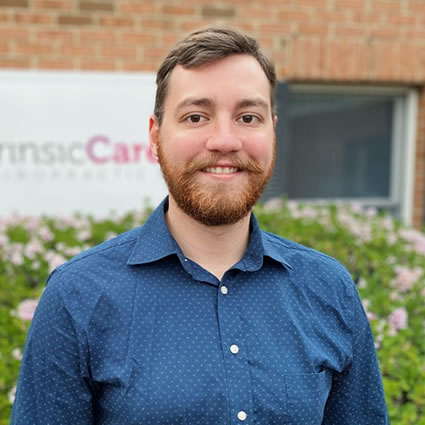 A former chocolatier, William is now the office coordinator at Intrinsic Care Chiropractic. His primary responsibilities include managing the office space and ensuring a smooth workflow.
I'm kind of a personal cheerleader, ensuring that everybody on the staff has what they need for the day."
William also loves being a part of a warm and welcoming place that makes it easy for practice members to come in and feel supported and safe!
Experiencing the Effects of Chiropractic Care
Although William wasn't a chiropractic patient before joining the practice team, he is now under care and has seen an immediate response. He has become more aware of his posture and how it affects his emotional standpoint and ability to process information. Overall, William feels better and finds it easier to move around.
Seeing Practice Members' Lives Improve
For William, one of the most rewarding aspects of working here is watching the practice members come in and out of the office, and seeing the care they receive. It was actually what sold him on the job. "The practice members talk about how much their lives have improved, how they can breathe better, they have less anxiety, their cognitive function is firing on all cylinders, and how they can try new things they weren't once comfortable with."
Adopting a Caring and Outward Mindset
At Intrinsic Care Chiropractic, William has learned that the office is not about the team, but providing the best environment and outcomes for their practice members. "We have morning attitude adjustments every day and in those we talk about how we are here to serve every soul that walks through our door to the best of our ability."
Outside the Practice
When William isn't working, he enjoys spending time with his family, partner, and two cats. He also loves music, video games, and being outdoors, going on hikes or visiting local markets to get fresh honey and produce.
Book an Appointment
Contact us today to schedule an appointment!
CONTACT US »

William Lawson, Office Coordinator | (614) 396-6945